Next Generation Systems: Now's the Time
by Dan Freyer
Los Angeles, Calif., November 9, 2012-- Next generation high throughput satellites (HTS) and Ka-Band systems in production and coming into service are bringing massive increases in bandwidth to orbit. Over twenty new HTS and Ka-band satellites are in construction, each carrying from 10 to 100 times the capacity of today's conventional C– and Ku-Band systems.These next-gen and Ka-Band systems could dramatically alter the industry's landscape. How will they impact satellite markets in the next two years, and what industry players stand to gain from their success?
"Game-Changers" Coming Fast Everywhere
Bandwidth increases will be dramatic. Roger Rusch, President of industry consultants TelAstra, Inc. estimates that the HTS satellites in construction will have a combined throughput of over 800 Gbps so their addition could more than triplethe global bandwidth in space capacity in the next two years.
There is bound to be strong downward pressure on satellite bandwidth pricing for many applications and in markets where HTS systems play. "The throughput of the ViaSat-1 and Echostar XVII satellites is staggering by present standards," says Rusch, noting that just these two satellites launched this year alone more than double North American capa-city.
Global MSS operator Inmarsat's three initial Ka-Band satellites would expand its capacity to over an order of magnitudemore than its limited global L-Band spectrum today.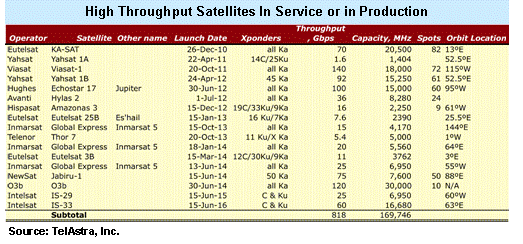 Technology Disruption – the MEO Threat
In addition to potential bandwidth supply shocks, new technical architectures could disrupt existing markets. For example, O3b Networks could challenge even next-gen GEO-based services in maritime, wireless trunking, and other markets in the developing world.
"What's unique about O3b is not just fiber-like data rates in the 100s of megabits to 1 Gbps, but also low latency, at less than 130 milliseconds round trip," explains Steven Blumenthal, VP for Solutions, O3b Networks, Inc. "Low latency provides higher speeds and faster startup for TCP applications, giving Internet users fast downloads. GEO satellite latency has a very negative impact on mobile smart phone user handset throughput."
Because of its low latency, O3b can support satellite backhaul of broadband mobile handset IP traffic for carriers that want to introduce 4G type services to un-fibered locations — applications not feasible using GEO-based backhauls due to the high latency.
O3b's eight-satellite constellation of spacecraft will orbit at 8.062 km Medium Earth Orbit (MEO), and the company projects a service start in Q3 of 2013. SES Global is among the investors.
If O3B's advertised advantages attract a big share of users away from GEO in the next several years, then we can expect "me-to" MEO projects from other operators. O3b's satellite supplier, Astrium could also be well positioned to help other MEO ventures if the program delivers on its promise. For all its advantages, 03b poses no threat to consumer and SOHO VSAT markets. Its dual motorized terminals is projected to cost as much as US$ 30,000 at the low end. In addition, service coverage is focused to within +/- 45° north and south latitudes of the globe.
Cannibalization, Risks and Rewards
Since the cost per bit/second of bandwidth on an HTS system can be an order of magnitude lower, there are concerns that steep downward pricing pressures could hurt current C– and Ku-Band revenues among FSS and MSS operators, as some services migrate to next-gen systems.
A recent Inmarsat investor presentation included forecasts of traffic migration of as much of 40% of some segments of its L-Band business to its future Global Xpress® Ka-Band platform.
The smaller and regional satellite operators may have the most to gain from next-gen satellites, which can help them expand services. "If they gain a lot of new capacity at lower cost than they have today, they don't fear they will cannibalize their market," says Doron Elinav, VP of Strategic Accounts for Gilat Satellite Networks, which is providing its VSAT systems around the world. "Larger operators are more sensitive to cannibalization, so they are looking at models that won't cannibalize their business."
Because it has a huge portfolio of customers with existing C and Ku-Band, creating a backward compatible, "open architecture system" is an important part of Intelsat's HTS strategy. Intelsat's cautious expansion into HPT presents an emphasis on maintaining it's current ecosystem of partners, and will start with two satellites.
The first, a Boeing-built 702MP model spacecraft has an expected in-service datesof 2015. "This design will have 8-10 times the throughput of a standard satellites. Customers will see higher performance through lower cost per bit," says Intelsat's VP of Corporate Strategy, Bruno Fromont.
"No new ground infrastructure is needed, but to take advantage of the performance, we are working with the ecosystem of modem, antenna and other manufacturers so they can roll out the enhancements to take full advantage of the performance and flexibility in the future, he adds. "People will have freedom to select the terminal they want, by and large, and it will be backwards compatible with existing services."
Supply Chain Gains
Success of operator services will mean a solid outlook in demand for commercial spacecraft and launch services, despite migration of many traditional services off satellite and on to terrestrial fiber during the past decade.
While Boeing and SS/L may boast a large share of experience to date, no single satellite manufacturer has an exclusive on Ka-Band. Astrium, Thales, Orbital Sciences and Lockheed Martin are all able to claim Ka-Band programs under their belts.
More Payload Work
HPT satellites can cost typically 50% more than conventional comsats, in large part due to the complex multi-beam payloads. Spot beam satellites use large numbers of receivers, Traveling Wave Tube Amplifiers (TWTAs), filters and switches. Suppliers of these components should continue to see growing business prospects.
Thales Electronic Devices, Ulm Germany, and L3 Communications of Torrance, CA, which supply the lion's share of space-born TWTAs, have seen a surge in demand for Ka-Band components. They have reportedly even been struggling to keep up with demand, and enjoying big increases in quantity orders driven by Ka-Band.
Complex Antenna Systems
HTS and Ka-Band payload requirements and complexity can drive teaming arrangements. For example, the Inmarsat-5 satellites being built by Boeing will use gimbaled antennas provided Harris Corp. under subcontract, while Lockheed Martin is subcontracting to Astrium for Ka-Band beacon equipment to fly on NewSat's Jabiru-1 satellite for Australia.
MacDonald, Dettwiler and Associates, Ltd. (MDA), which agreed to a US $1 Billion-plus deal to purchase SS/L in June, is another space subsystem provided that has found new growth markets thanks to Ka-band and HTS markets. MDA is building over 100 gimbaled Ka-band antennas — twelve per satellite — for 03b, under a subcontract to Thales Alenia Space, the space system prime contractor. MDA has also built Ka-Band antenna feeds for ViaSat-1 and Jupiter-1, among others, and was selected to provide Avanti's Hylas-3 Ka-Band "hosted" payload, and Israel's Amos-6 Ka-band payload.
Ground Systems and Terminals
HTS require extensive new RF ground infrastructure, especially for the consumer Ka-band systems, and networks providing consumer/SOHO grade solutions. These can drive very large-scale network infrastructure and terminal contracts, not to mention hundreds of thousands of terminals demanded over time. A recent example is ViaSat's US$ 240 mil. ground system for NBN Co. in Australia. Hughes nabbed a US$ 27 mil. contract with YahSat. In September, Gilat received an order from one of Europe's largest satellite broadband ISPs in support of SES Broadband Services' (SBBS) Ka-band consumer service rollout.
Leading VSAT players like ViaSat, Hughes, iDirect, Gilat stand to gain ground as demand for higher capacity broadband terminals comes with next-gen satellite deployments. According to Doron Elinav, VP of Strategic Accounts for Gilat Satellite Networks, the large equipment vendors stand to gain, but shakeouts may occur: "There is a lot of long term R&D required for these systems and a lot of investment, so the larger players will have a long term advantage in this market. There will be fewer VSAT players," he predicts.
But the opportunities are not just in consumer broadband networking. Earlier this year, Inmarsat tapped iDirect to design, manufacture, and install its Global Xpress™ ground infrastructure platform and provide core modules for terminals that Inmarsat will deploy in the maritime, aeronautical and other markets "We are providing the complete ground system, with teleport dishes and building the terminals to go to market. They launch the satellite the middle of next year and we will be in middleof testing in 2013, with the goal of in-service by 2014," said iDirect's Bettinger.
Inmarsat said recently it had booked over 20% of its Global Xpress® Ka-Band revenue goal through 2019, has signed Cobham Satcom, Paradigm Comm and Skyware Global as initial land satellite terminal manufacturing partners. iDirect is working with Inmarsat's designated terminal manufacturers to develop each terminal option. Last month, Inmarsat announced that Honeywell will distribute services for business aviation markets.
For its part, O3b selected ViaSat to build its gateways, and its high-speed (800Mbps) links. But for user terminals, it has approved packages from ViaSat (high speed modems), Comtech (mid speed), and Gilat(lower speed) along with GD Satcom tracking 1.8 and 2.4 antennas, Sea Tel maritime antennas, and various sized Ka-Band HPAs from a mix of suppliers including CPI, Comtech Xicom, and new Japan Radio Corporation. 03b is not selling terminals itself. "Opportunities for others to supply medium and low cost terminals exists so long as they meet O3b's specifications, and we'd love to have other sources available for our customers" says O3b's Steven Blumenthal.
Not Something To Ignore
The next few years are going to be exciting and challenging times for the satellite industry as Ka-Band and high throughput satellite services create major new opportunities. Markets are global and opportunities abound to serve ever-increasing demands for broadband IP services from consumers, businesses and governments around the world. Companies that fail to position and respond effectively to the changing industry conditions — from cost, to competition, to changing distribution models — could see major strategic opportunities pass them by.
---------------------------------------------------------------------------------------------------------------------------
(sidebar)
Threats and Opportunities for Teleports and VSAT Service Providers
The traditional FSS VSAT or enterprise teleport service market, service providers can shop for and lease bandwidth from a satellite operator and manage their own hub and network using their own selection of ground equipment from a wide variety of sources.
"The change in ecosystem with high throughput satellites means changes in the value-chain, and changes for the suppliers in that chain," says Doron Elinav, of Gilat, which is a VSAT terminal supplier for SES' SBBS consumer service in Europe, O3b, Optus, RT Comm, among its HTS/Ka-Band customers."
For example, in Europe with its KA-Sat service, Eutelsat has moved down the value chain by also providing hub services and selling mbps directly to ISPs, bypassing traditional teleport and VSAT service providers in the process. "So the VSAT service provider has less flexibility to choose ground segment," according to Gilat's Elinav. "The service provider loses flexibility and value is transferred to the satellite operator."
Another issue is spot beams. With conventional satellites, wide area beams allow uplinks from a broad geographic area, providing a lot of flexibility for where an uplink teleport can be located. But with a Ka-Band system, beams are tightly focused on smaller "cell" areas, and only a few primary ground hubs may be able to access the system.
"The role of independent teleport operator, which is a relatively large industry, will decline in this scenario," say Elinav "because they provide less value, and unless their teleport is in the feeder beam to the gateway they have no play towards the Ka-Band satellite."
On the other hand, this can also make for surprising teleport opportunities. Encompass Digital was awarded a contract to provide teleport services for Inmarsat's Global Xpress® system from Lino Lakes, Minnesota, hardly a hub for national, much less international telecommunications traffic exchange.
"In the North American Hughes and ViaSat model, satellite operators own the ground gateways and only run one waveform on all the capacity. They are 'closed systems,' or what we call a completely vertically integrated play, directly serving the end user," says David Bettinger, CTO of VSAT technology supplier iDirect, which is involved in several HTS programs' ground networks. "Most satellites to date have been launched for consumer services, but now we are seeing what I think is the inflection point in our market, with operators aiming to support high end services," says iDirect's Bettinger.
Intelsat's EPICNGprogram is an example, with its support for the existing service provider ecosystem and value chain. "We are working with the ecosystem of modem, antenna and other manufacturers to they can roll out the enhancement to take full advantage of the system's performance and flexibility in the future so customer will enjoy major improvements in cost and performance,' says Intelsat's Bruno Fromont.
"We are primarily interested in business-to-business. Our initial customers are cruise ships, oil and gas, and maritime enterprise users, so reliability is very important and the positioning is very different from a ViaSat or Echostar/Hughes type consumer systems."
Other examples of HTS systems providing flexibility to work with traditional service provider channels are YahSat and Avanti.
UK-based Ka-Band satellite operator Avanti offers raw Ka-band space segment, bundled IP teleport and space services, as well as broadband retail solutions. Avanti launched Europe's first Ka-Band HTS satellite, HYLAS 1 in November 2010, providing two-way coverage across Europe, and its second satellite, HYLAS 2, launched in August 2012, extending coverage to the Middle East and Africa. Middle Eastern operator YahSat offers similar flexibility for operators to lease space segment, or bundled services.
No one model fits all, say industry players. And the growing variety of business models evolving around the world, depending on the target applications, region, and technology, are creating new options for more players to get involved.
-------------------------------------------------------------------------------------------------------------------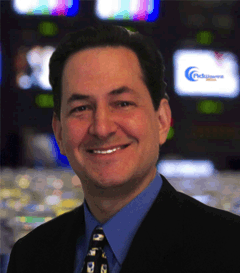 Dan Freyer is the principal of AdWavez Marketing, a marketing agency serving the satellite industry. For over 20 years, he has helped top satellite manufacturers, operators, service providers, and equipment suppliers develop their businesses and brands. He can be reached at dan@adwavez.com.