The Earth Station Business
by Dan Freyer
Los Angeles, Calif., February 3, 2013--The large antenna systems manufacturing and earth station integration business has changed in the last several years. While the number of original equipment manufacturers (OEMs) supplying smaller antennas, (e.g. under 5 meters), including specialized systems for aeronautical and military applications, continues to grow, consolidation has narrowed the field of large antenna makers. Two majors, ASC Signal and General Dynamics SATCOM Technologies lead the pack today. Nevertheless, the business of supplying complete turnkey earth station systems, of which the antenna and RF chain are a key component, remains a competitive market.
A host of system integrators around the world design, build, and install earth stations incorporating antenna and RF gear and baseband systems for end-users, acting as distributors for antenna manufacturers in different regions and market segments. These include companies like GlobeComm Systems, Satcom Resources, Encompass Digital Systems, Huawei, ATCi, and many others.
"With the global economy the way it is, there is increased price pressure which prompts equipment manufacturers like us to apply even more of our research and development to reducing production costs and increasing performance," says Tim Shroyer, Chief Technology Officer, General Dynamics SATCOM Technologies.
Keith Buckley, CEO of ASC Signal agrees, adding "The industry has become more competitive, cost sensitive, and diverse in terms of technical requirements."
Cost competitiveness also means that more technical skills need to be found under one roof than in the past.
"For instance, your typical installer must not only have a full understanding of the baseband application, be capable of building a concrete foundation and ensuring the transmission facility has the proper HVAC design, but they're now also expected to rack, stack and test the RF equipment, install, test and commission the antennas, have a full command of TCP/IP Networking and Routing, be fluent in Linux, and be prepared to do installations in almost anywhere in the world," says Buckley.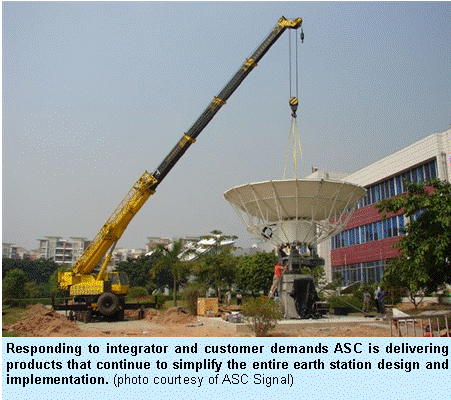 The current cost-cutting environment makes the relationships between systems integrators and their prime suppliers more important than ever. Responding to integrator and customer demands for example, ASC is delivering products that continue to simplify the entire earth station design and implementation, such as its Next Generation Controller (NGC), which can control and monitor essentially all components in the transmission system, so integrators can rely on a single piece of equipment instead of having to design and build a rack full of gear. The goal, says Buckley, is "to equip all of our systems integrator partners with as many tools as possible for them to ensure successful design and installation of transmission systems."
MARKET PLACE CHALLENGES
The RFI Equation and SatelliteOperating Standards
Perhaps the biggest challenge for both satcom system integrators as well as earth station OEMs is to provide the same or higher levels of functionality at as low a price as possible. Part of the reason for this, says Gary Hatch, CEO of antenna OEM and integrator ATCi, is that "New transmission methods such as DVBS2 have put more pressure on delivering better antenna tolerances and performance criteria to meet new link budget requirements."
Another contributing factor is that several years ago, satellite operators went through a period of reduced technical requirements verification. They did so in an effort to reduce their own costs in operating the satellites as well as reducing their customers' compliance costs.
"The pendulum has swung back after interference incidents increased significantly," according to Genaral Dynamics' Tim Shroyer.
Now organizations like the GVF are assisting in developing industry standards. This has multiple benefits for buyers of earth station equipment, as well as equipment manufacturers, integrators, and satellite operators.
"Under the evolving standards, the real operating requirements are better defined so there is much better clarity in both what is needed and what earth stations are capable of providing," says Shroyer. "With defined standards the industry as a whole can continue to provide highly reliable communications service at the lowest total cost."
Tolerance for Higher Frequencies
Demand for Ka-Band systems from both government and civil satcoms customers has introduced new technical challenges, when compared with the relatively lower frequency traditional (C/Ku and MSS band) requirements. The challenge is being met with tightened design and production tolerances as well as more advanced antennas, power amplifiers, and frequency converters.
As manufacturers scramble to keep advancing the state-of-the-art in Ka-band earth station design, there is significant pressure for the lowest possible price for earth station hardware.
Antenna performance is not the only challenge. "The integration of higher frequencies and higher code rates (such as new DVBS3 technologies) will put added pressure on proper integration disciplines," says Gary Hatch, CEO of ATCi. "The systems must be easy to operate as most customer installation are not traditional RF-trained engineers. They are generally more IT and video people."
For systems integrators, keeping the hard technical skill set fresh, relevant, and focused, while simultaneously honing the soft skills of building relationships on a global scale are as important as ever. This includes having the ability to navigate time zones, cultures, governments and politics, and still be able to translate a customer's wants and needs to compete on an international stage. The same challenges apply to equipment distributors.
"In a lot of ways, it does not take much to become an integrator; however, it takes a lot to remain an integrator," explains Buckley. Those integrators able to sustain themselves in a very competitive segment of the industry usually have to have a solid technical background and often become specialized in some aspect of the industry.
GlobeComm Systems is a case in point. "Today more than ever it is critical to understand the customer's application," says Tom Coyle Senior Vice president & General Manager for GlobeComm Systems. "The arrival of 100 GBps-plus Satellites creates a host of new opportunities along with technology challenges in ground systems. Our focus is staying on the leading edge of technology in offering complete integrated solutions for our customers."
Uncertainty in US government budgets and fluctuating global economic conditions is another issue (see Satellite Executive Briefing, October 2012, page 25). "A key element of our overall strategic approach to address the challenge is maintaining a government/commercial balance, along with market segment diversity," says GlobeComm's Coyle.
GROWING SEGMENTS
Industry studies have forecast huge growth in satellite launches that will deliver staggering amounts of capacity to orbit, over the next 10 years, including Ka-Band and next-generation broadband systems (See Satellite Executive Briefing, Nov. 2012, cover story "Next-Generation Systems," by Dan Freyer). Earth station builders say that even if these projections are only fractionally correct, the growth will be much higher than it has been over the last few years.
What segments do OEMs and integrators expect to grow the most? Many industry observers had thought that Direct Broadcast Satellite (DBS) systems were largely "built out" worldwide, so there would not be additional growth. In fact, demand surpassed expectations.
"We are seeing continued growth in DBS and FSS broadcast applications as video continues to be the biggest consumer of satellite transponder capacity in all continents. New high power Ka-Band satellites are not only supporting this extensive video broadcast market but are increasingly designed to support high performance spot beam applications more suited to internet and high rate data connectivity. We expect continued growth in those markets for some time to come," says General Dynamics' Tim Shroyer.
IP applications are also filling integrator pipelines. For example, integrator ATCi forecasts continued requirements for turnkey gateway systems for many different forms of IP broadband and DTH hub systems.
Multi-band, mobile and on-the-move communications is yet another segment of heightened market demand. Prime antenna manufacturers believe that growth in sophisticated, agile terminals will be significant as requirements increase for mobile communications, both in the commercial and defense segments. For example, "ASC Signal is continuing to expand our mobile products, including our latest 2.4m Nomadic antennas that cover everything from L- to Q-band in anticipation of and response to this demand," says CEO Keith Buckley.
Systems integrator, GlobeComm Systems shares a similar view. "We expect to see continued growth of Ka Band and Multi-band Antenna solutions to support the demand for very high data rates while maintaining high quality of service," says GlobeComm's Coyle. "We also expect continued growth in Cellular Backhaul for rural services."
Customer Focus
Putting more usable transmit power in smaller, lower utility power drawing packages, getting more bits per carrier, and helping operators simplify the management, maintenance and operation of ground facilities are key areas of focus for product enhancements that drove sales growth in the past year.
"For ASC Signal, it was definitely our antennas combined with our NGC controller system. Our customers continue to find ways to capitalize on the innovative features we've built into the NGC to make earth stations more flexible and functional. Growth in our antenna products using our NGC was well in excess of 30% over 2011," according to Keith Buckley.
Singapore-based telecommunications consultant Jonathan Ng, who has been involved in earth station projects in the Asia/Pacific, agrees that antenna control units for tracking both GEO and non-GEO satellites is a growth segment, although some of that business may be for earth station upgrades.
Systems integrator ATCi has been winning new business in the video segment. "Our greatest growth, at 50 percent, is in our low cost DVBS2 MPEG4 HD FlyAway systems," says ATCi CEO Gary Hatch. "We package our FlyAway Systems with 4G/3G MPEG4 HD transmission system to provide unequaled access to remote requirements."
GlobeComm also expects continued robust demand for high power amplifiers and hub components to support demand for broadband networks. "We see continuing growth in the demand for Ka Band antennas and amplifiers for smaller aperture transportable solutions," according to Globecomm's Coyle.
Product R&D Efforts Worth Following
Manufacturers and integrators foresee gains from technical developments underway in a number of areas.
As a solutions provider to broadband and government customers, Globecomm's Coyle is excited about new products coming out such as "Multiband Integrated RF/IF packages to support lightweight terminals, and high power, low distortion amplifiers to support today's demand for high data rates."
Solid state power devices, in GaAs and GaN, are steadily improving and able to support higher power levels and higher frequency bands all the time. "We are using many of those devices today in our SSPAs," says General Dynamics' Shroyer, "but there are still some bands, like 18 GHz DBS, which can only currently be satisfied with vacuum tube technology."
Another area is advances in Digital Signal Processing, such as the Software-Defined Radio efforts that have been impacting terrestrial communications. General Dynamics has been involved in bringing advanced SDR technology to DoD terrestrial communications systems, according to Shroyer. "We are using that technology in some comparatively narrowband satcom applications today, and in not too many years SDR and DSP advances will likely reach bandwidths where they will satisfy broadband satcom requirements. That will likely be one of the next big advances in satellite earth station technology," he predicts.
Enhancements in component materials is another development. ASC Signal is looking at the introduction of cost-effective carbon fiber, which potentially allows for some very innovative ideas for earth station antenna design, according to the company.
In a recent World Teleport Report, "Best Practices in Buying Antenna/RF Chain" teleport buyers of large antenna systems reported that in recent years the antenna control systems have significantly improved.
ASC Signal is one of several manufacturers that have made strides in this area. "We have taken a simple positioning system and provided broader control to essentially all vital aspects of a typical ground station in a cost-effective way, while simplifying the overall system design for integrators and users alike," explains ASC Signal CEO Keith Buckley.
On Axis
The large number of new and innovative satellite payloads entering service in 2013 and beyond mean significant opportunities for companies that can deliver supporting ground infrastructure.
Antenna systems providers continue to focus development efforts on reducing the cost, while increasing the performance of earth station hardware and systems.
For buyers, the capital expenditures to implement an earth station can be significant. Mistakes can be expensive to overcome both in terms of direct costs and competitive position.
In this changing environment particularly, discussions with key antenna system suppliers and partners about your requirements well in advance of the system design can help you reduce risk and cost.
--------------------------------------------------

Dan Freyer is the principal of AdWavez Marketing, a marketing agency serving the satellite industry. For over 20 years, he has helped top satellite manufacturers, operators, service providers, and equipment suppliers develop their businesses and brands. He can be reached at dan@adwavez.com