AVCOM of Virginia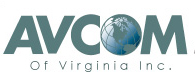 AVCOM of Virginia is a vertically integrated technology company with 30 years of experience in the design and manufacture of commercial high quality, spectrum analyzers and signal monitoring products, in the USA.
Founded in 1976, AVCOM initially provided the SATCOM industry with our PSR-3 Satellite Receiver. Continued innovation and Development of technology has enabled us to now offer a wide range of spectrum analyzers for the broadcast, teleport, defence, aerospace, wireless, oil & gas communications market segments.
Avcom has succeeded in becoming a valued partner with our customers by listening and responding to their requirements, exceeding their expectations, and generating advanced solutions for small and large projects. Our team's ability to provide solutions to unusual requirements was successfully repeated throughout our history and has led to several patents.
It is this resourcefulness, innovation and experience that has established Avcom's reputation as a recognized leader, and we remain committed to providing our customers and partners, worldwide the very best solutions.
For more information go to www.avcomofva.com